The Steps of the Orangerie
Versailles
Like those kings who in the end just stride
about aimlessly to demonstrate
to those bowing on either side
the loneliness inside the clothes of state -
so ascends between the balustrades
that have been bowing from birth,
this flight of steps: slowly and by God's grace,
towards heaven and nowhere on earth;
as if all its entourage had been told
to stay behind, so no-one dares
to come forward; not even to hold
the long and heavy train it wears.
English translation by Paul Archer of the poem Die Treppe der Orangerie by Rainer Maria Rilke. The poem was written in Paris in July 1906.
The Versailles Orangerie was built between 1684 and 1686 for Louis XIV. The orange trees were originally shipped from Italy and were much prized for their fruit and scented flowers. There are two stone staircases on either side, known as the 'Escaliers de cent marches' as each has one hundred steps.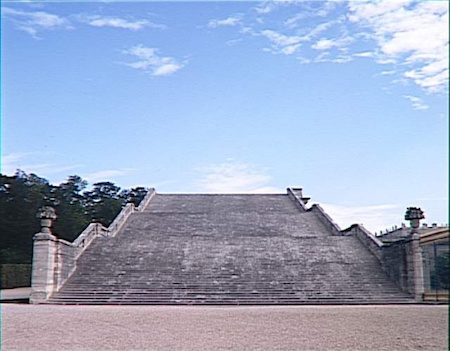 Die Treppe der Orangerie
Versailles
Wie Könige die schließlich nur noch schreiten
fast ohne Ziel, nur um von Zeit zu Zeit
sich den Verneigenden auf beiden Seiten
zu zeigen in des Mantels Einsamkeit -:

so steigt, allein zwischen den Balustraden,
die sich verneigen schon seit Anbeginn,
die Treppe: langsam und von Gottes Gnaden
und auf den Himmel zu und nirgends hin;

als ob sie allen Folgenden befahl
zurückzubleiben, - so dass sie nicht wagen
von ferne nachzugehen; nicht einmal
die schwere Schleppe durfte einer tragen.
For more translations of poems by Rainer Maria Rilke, go to Translations.