Fantasy and Fugue in Santillana del Mar
(English translation of 'Fantasía y fuga en Santillana del Mar' by Antonio Colinas)

I hear a resounding boom from the carved columns.
Will the sea, beyond the hills, open blue caves?
Moss grows in the claws of the stone lions.
Crossbows are levelled at children's bellies.
The town is a large tree of convoluted stone
and the rain continues to soften its back.
In the air there's the sick scent of eucalyptus.
I will save all this night's dream in my heart
and I will remember the wet hydrangeas
in the garden, the medieval grass in the cloisters.
You monsters on the arches, open wide your bulging
bulging eyes, know that I am also a goblin
and have knowldedge of witchcraft and miracles.
So fresh is the mouth of the night in the gargoyles.
A stone deer comes to drink at the fountain.
Its skin smells of sulfur, sea air, ivy.
It stands magnificently like a rosetree, sightless,
its silver hooves ring on each flagstone.
Many times it was mortally wounded in the forests
and just as many times it was seen through the trellis
dipping its somnabulant head into the fountain.
How painful to wake up at night with no balcony,
with no stone ship sailing through the figtrees,
the primitive corn, the pagan cypresses.
I will save all the dream, the beauty that fled
and the roses of rust that keep on blooming
so rampantly on the iron gates like black hawks.
Note: Santillana del Mar is a historic town in the Cantabria region of northern Spain. The Romanesque church of the colegiata is a former Benedictine monastery dating from the XII century.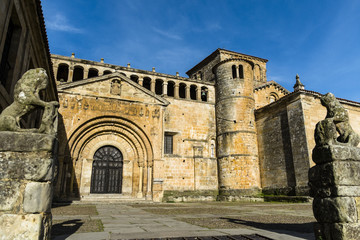 For more translations of poems by Antonio Colinas, go to Translations.