Sóller Cemetery
The stern command of gravestones
below the thin spires of cypress trees
and the long trudging ridge of the Tramuntana.
White chrysantheums like cowled nuns
at a bedside, black and white photos
of the dead on stone pillows.
Casasnovas, Arbona, Bernat, Noguera...
Their engraved names live on as fishermen,
bakers, carpenters, ironmongers,
The carved ropes and anchors
bind them fast to the Lord. The flowers and angels
draw them in to the curves of His mercy.
Corta fue tu vida y profundo
El vacio del corazon de los tuyos
No nos olvides desde el Cielo
Que no te olvidamos desde la tierra.
(Your life was short and profound
Vacant the hearts you left behind
Do not forget any of us in heaven
Lest we forget you in the ground.)
Walking back from the cemetery to Sóller,
becalmed by the living olive trees,
all knots loosened, lines floating free,
hard stones under our feet, hard earth
going down forty thousand kilometres,
an unseen force catches at our heels...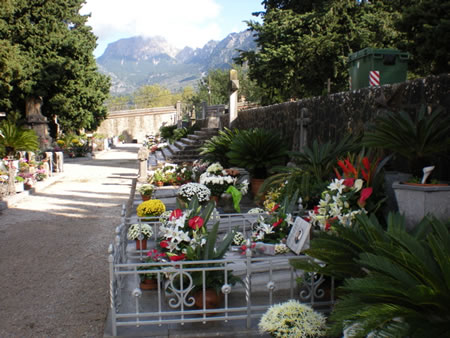 The cemetery in Sóller, Mallorca, Spain.